Dental Crowns – Gilbert, AZ
A Natural-Looking Solution for Damaged Teeth
Over time, teeth can become decayed or damaged for a number of different reasons, including poor oral hygiene, sports injuries, and accidents. If your compromised teeth aren't being protected, they are left vulnerable to the elements, and you are more likely to end up with a more serious dental emergency in the future. Your tooth could even become damaged to the point where you would need an extraction. Fortunately, Dr. Shandy Condie offers high-quality, customized dental crowns to strengthen and protect your smile. To learn more or to schedule an appointment at Desert Springs Dental, don't hesitate to give us a call!
Why Choose Desert Springs Dental for Dental Crowns?
Skilled Dentist with Over 20 Years' Experience
Customized Crowns Made from High Quality Materials
Flexible Financing Options Available & Dental Insurance Welcome
What is a Dental Crown?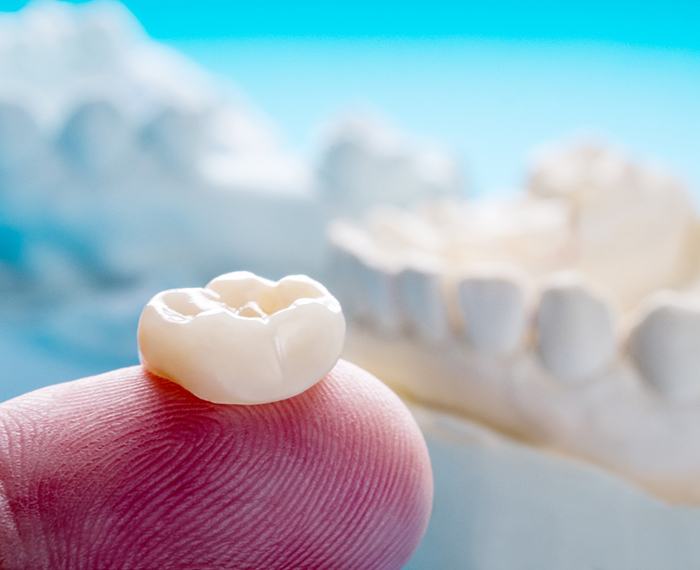 A dental crown is customized cap-like structure that is intended to fit over the biting surface of your tooth above the gumline. It can be made from many different types of materials, including gold, ceramic, and porcelain. Typically, this type of restoration is recommended if you have any of the following:
Severely decayed tooth with a large filling
Broken tooth that needs extra support
Tooth that has just received root canal therapy
Dental implant
Bridge that needs support for the adjacent teeth
Tooth that is severely misshapen or discolored
The Dental Crown Process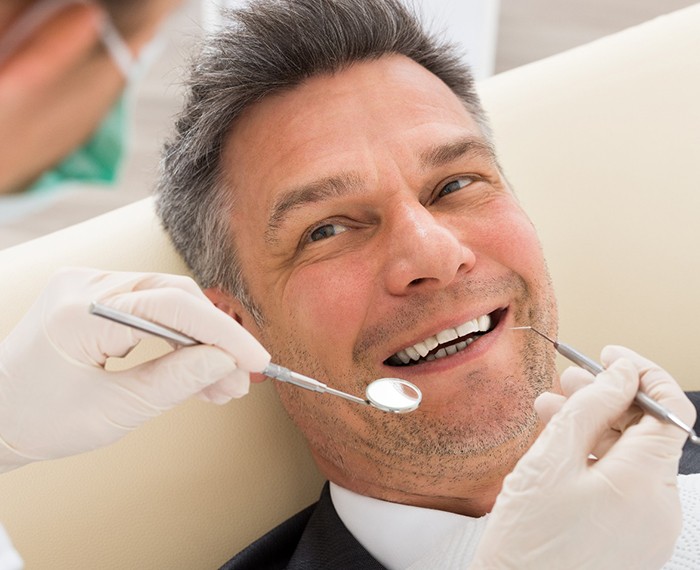 Getting a dental crown placed usually happens over the course of several appointments in order to give you the best possible result. First, Dr. Condie will examine your smile to confirm that a dental crown in Gilbert would be a good option for you. In order to prepare your tooth for the crown, a thin layer of your protective enamel will be removed to make room. An impression will be taken of your tooth and the gumline and sent off to a dental laboratory where your restoration will be made. In the meantime, you will be given a temporary crown to keep your tooth safe.
You will receive a call back from the office as soon as your crown is ready. Your temporary crown will be removed and replaced with your permanent one. Lastly, the Desert Springs Dental team will show you the best way to care for your dental crown so it will last as long as possible.
The Benefits of Getting a Dental Crown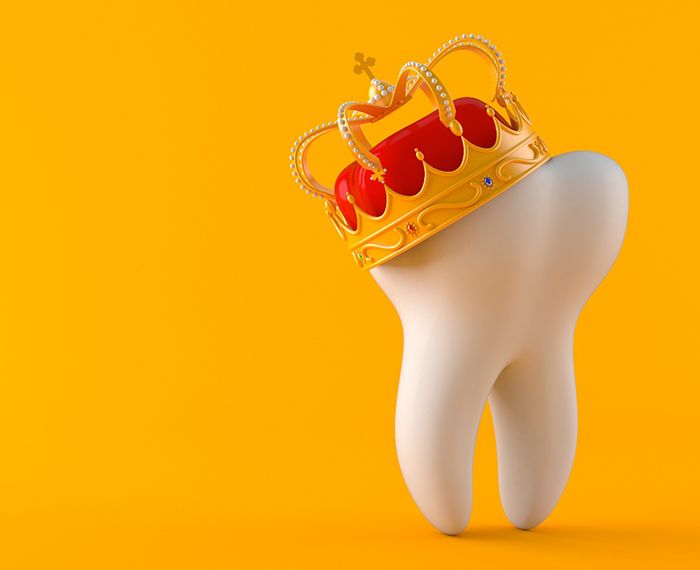 Dental crowns are very common. Here are some of the benefits that our patients are able to experience:
Increased comfort
Improved chewing ability
Prevents future oral health problems
Lasts upwards of 15 years with proper care
Natural appearance
Customized to your individual smile
Dental Crowns FAQs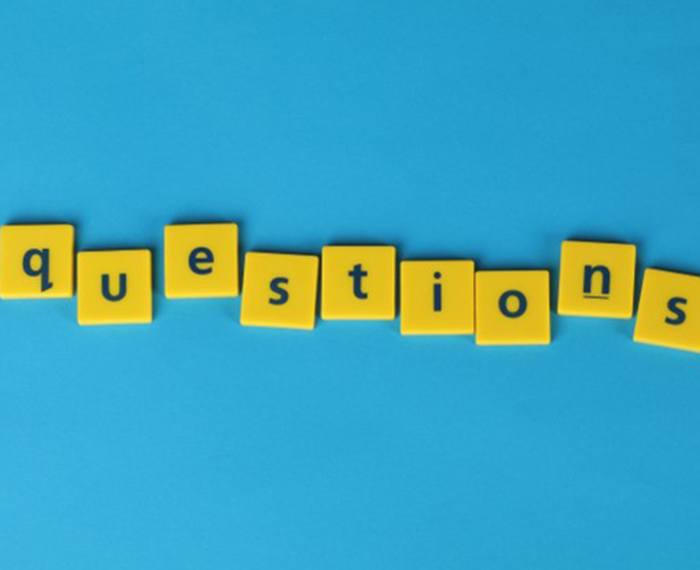 Dental crowns in Gilbert are a tried-and-proven method of preserving compromised teeth. They have been used for decades; however, it is normal to have a few concerns because a crown is a big commitment. We will explain everything during your dental crown consultation. While you wait for your appointment, here are the answers to a few frequently asked questions.
How do you know when a crown needs to be replaced?
Crowns are designed to be a long-term solution, so they don't have to be replaced often, especially with the right aftercare. Unfortunately, a crown won't last forever. Only a dental professional can confirm a failing restoration, but there are a few warning signs, like pain. Although the crown isn't vulnerable to decay, the underlying tooth is still at risk. Pain is often associated with decay, which can turn into a dental emergency without prompt care. Some patients experience instability or the crown may come off completely. Not to mention, any changes to the crown's appearance can indicate there's a problem. If you have a porcelain-fused-to-metal crown, contact your dentist if your gum line appears discolored.
How long do dental crowns last?
The average dental crown lasts for 5 to 10 years before needing to be replaced, but it's not uncommon for a restoration to thrive for much longer. Various factors affect the lifespan, such as the materials used and the location of the crown. The back teeth undergo more wear and tear than those in the front, so crowns on molars may have slightly shorter lifespans. You can get the most out of your investment by brushing, flossing, and using a daily mouthrinse. Don't forget to visit your dentist in Gilbert twice a year for a cleaning and checkup. Your dentist will also recommend breaking any bad oral habits, like using your teeth to open packages, smoking, or biting your nails. Your dentist will also advise you to limit hard or sticky foods, which can damage your crown. With the proper maintenance, it's not unusual for a crown to last for decades before needing to be replaced.
Does it hurt to get a dental crown?
Thanks to advancements in dentistry, getting a crown is virtually pain-free. Your dentist will use a local numbing agent to block any pain signals before getting started. It is normal for your tooth to feel a little tender after the effects of the anesthetic dissipate. You can manage it using an OTC pain reliever. It is best to stick to softer foods for a few days until your discomfort improves.
Are dental crowns safe?
Dental crowns are 100% safe when placed by an experienced dentist. Crowns differ from fillings because they don't contain any mercury. Not to mention, modern restorations are completely metal-free, so there's no concern for any toxicity or allergic reactions. It is rare for patients to have negative reactions to porcelain. However, if your pain doesn't improve or your gums are irritated, red, or inflamed, don't wait to contact our office.