Invisalign – Gilbert, AZ
Quick Orthodontic Treatment with Long-Lasting Results
Invisalign is one of the most popular and advanced orthodontic solutions available today. With more patients looking to alternative options to straighten their teeth and realign their bites, traditional metal brackets and wires are no longer the only methods of treatment. Instead, the team at Desert Springs Dental is pleased to provide these clear aligners to individuals looking for faster results and who want to avoid compromising their daily appearance. Whether you're a busy professional who runs your own company or a stay-at-home parent who simply wants a straighter, more beautiful smile, contact us today to find out if Invisalign is right for you.
The Benefits of Invisalign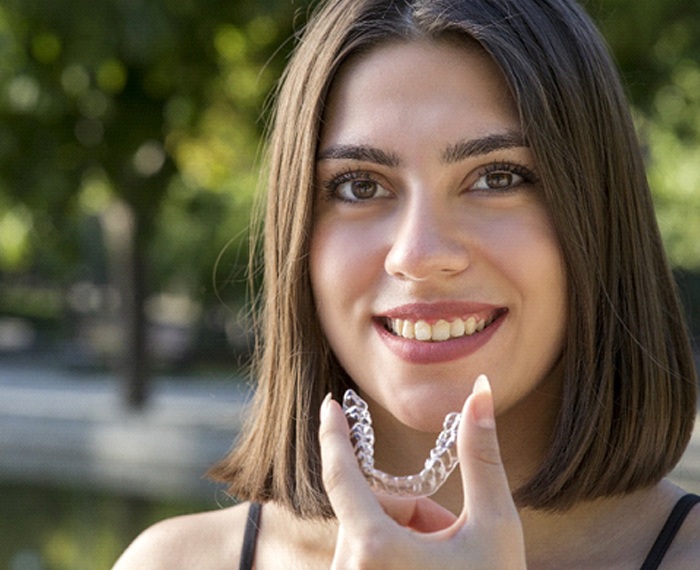 If you are one of the many individuals who is preparing to use Invisalign to straighten your smile, get ready to experience some of the greatest possible advantages to this type of treatment. Whether you are treated overcrowded or gapped teeth or need to realign and overbite, underbite, crossbite, or open bite, you can expect the following benefits:
A solution that is virtually invisible to others
An easy-to-clean solution that requires only clear soap, lukewarm water, and a soft-bristled toothbrush
Faster results in less time than with traditional braces
Improved confidence because your smile will finally be more perfectly aligned
Enhanced aesthetics to give you the beautiful smile you deserve
Increased comfort and minimal irritation to your soft oral tissues
Customized aligners that are created using impressions of your teeth
How Does Invisalign Work?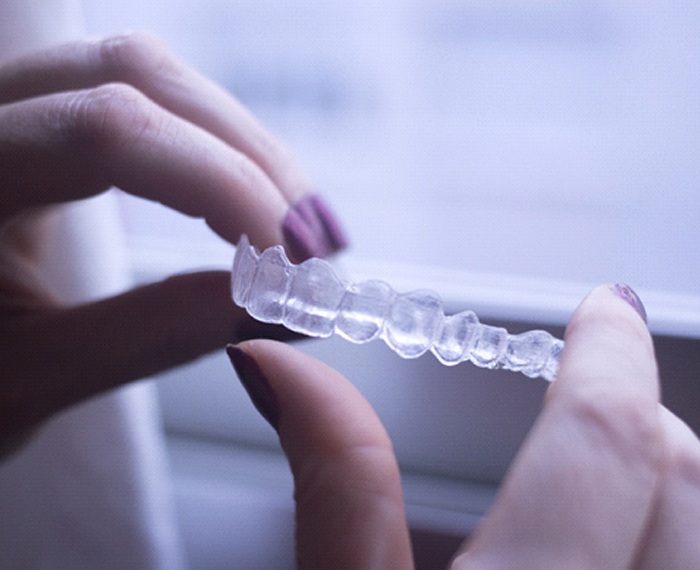 Unlike metal braces that require your dentist to regularly tighten and replace the wire for continuous movement, Invisalign uses clear, plastic aligners that fit snugly around your teeth. For 20-22 hours each day, gentle, continuous pressure is applied to your teeth, allowing them to move more quickly in the right direction, putting you one step closer to your results. After 1-2 weeks, you will be expected to swap out your current set of aligners for the next ones in the serious. It will also be important for you to maintain regular follow-up appointments with our team to ensure everything is moving along smoothly.
Once you are finished with treatment, you will be required to wear a retainer to help keep your teeth firmly in place.
How Do I Care for My Invisalign Aligners?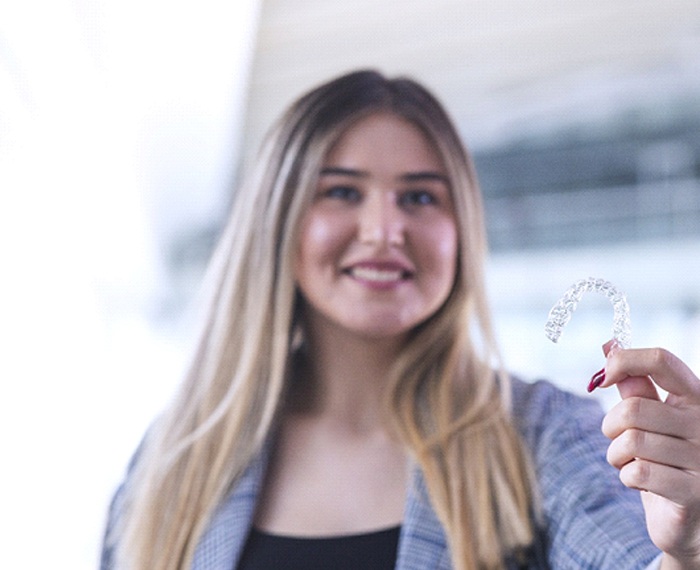 Taking care of your Invisalign aligners isn't a long, arduous process. Instead, all you need to do is take extra minutes each day to gently brush and clean your aligners with clear soap and a soft-bristled toothbrush. Each time you take them out or prepare to put them back in, make sure to rinse them off. You'll also want to keep your aligners in a protective case when eating, drinking (anything but water), or engaging in an important event where you prefer not to wear them (i.e., wedding, giving a presentation, etc.). This will ensure your aligners remain safe and prevent you from accidentally throwing them away or damaging them.
It is also best to brush and floss your teeth each time you finish eating and remember never to rinse your aligners in hot water, as it can damage and warp the plastic.
What is the Invisalign Process?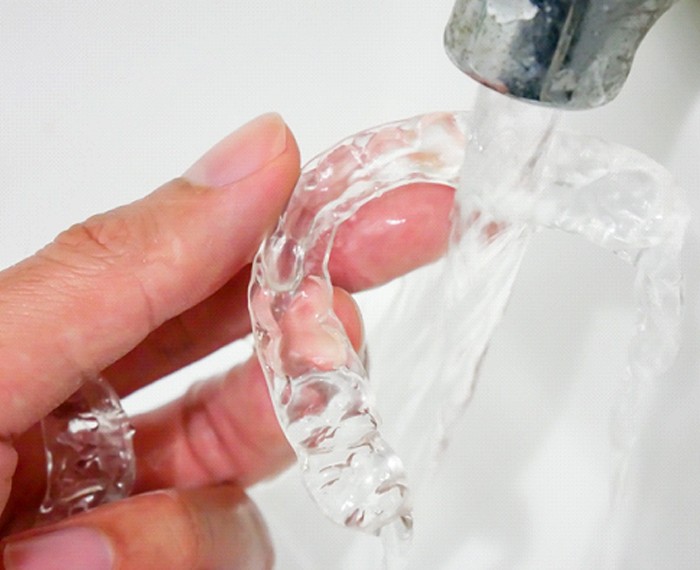 When you are cleared to receive Invisalign, you can expect to receive a formal treatment plan, complete with an explanation of the entire process as well as a cost estimate for your orthodontic care.
To start, we will:
Discuss your smile goals and what you want to change about your current teeth and bite. We will examine your oral cavity and facial structure before taking impressions and sending them to a laboratory where your Invisalign aligners will be created.
Once we receive the trays in our office, you will return to undergo a fitting. Our team will show you how to properly wear and remove your trays as well as go over tips and tricks to living with Invisalign each day. From the foods you can eat to the helpful ways to clean and safeguard your aligners, we'll go over it all.
You will be required to wear your trays 20-22 hours each day for effective results. Depending on your case and its severity, the duration of treatment may vary.
Understanding the Cost of Invisalign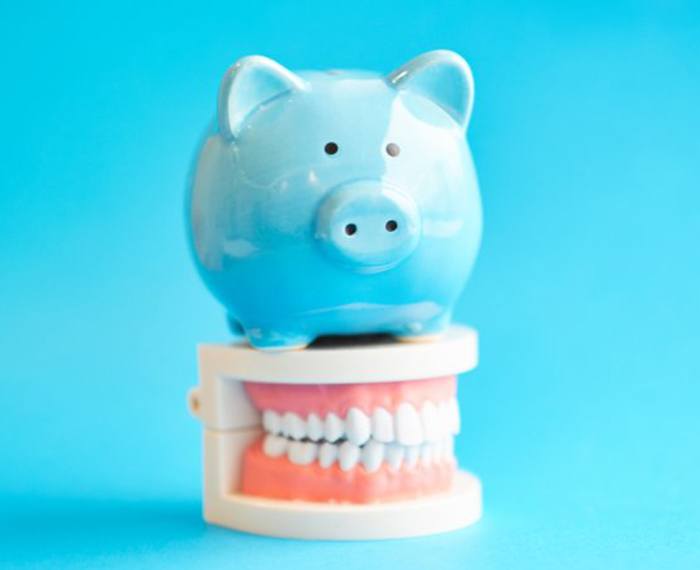 While the multiple benefits of Invisalign in Gilbert make it the clear winner over traditional braces, cost is probably also a concern of yours. This is perfectly reasonable, but just know that our team wholeheartedly believes that Invisalign is worth every single penny. Several factors can affect the price, which is why we can't give you an estimate until you attend an initial consultation with Dr. Condie. From there, we can go over payment options, including insurance and CareCredit, that will help make Invisalign easily affordable.
Factors That Affect the Cost of Invisalign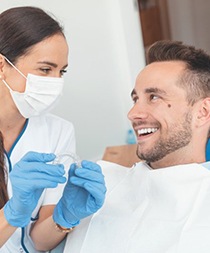 Every person's smile has unique needs, so the price of Invisalign can vary quite a bit from one patient to another. Your overall cost can be influenced by a number of variables, including:
Number of arches – Most Invisalign patients straighten both their upper and lower arches of teeth, but you can expect to pay less if you only need to shift one arch.
Severity of orthodontic issues – The more tooth movement is required for you to achieve a straight smile, the higher your treatment cost is likely to be.
Length of treatment – Longer treatment times require a greater number of aligners, which naturally comes with a higher cost.
Invisalign vs. Smile Direct Club™: Which Costs More?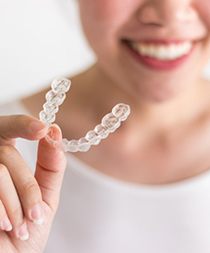 Patients who are interested in a "quick fix" for crooked teeth often ask us how Invisalign compares to mail-order clear aligners like Smile Direct Club. These "do-it-yourself" aligner systems usually only cost a fraction of what Invisalign does, but is the cheaper solution always best?
Smile Direct Club provides very little if any supervision from a dental professional. Instead, you're responsible for taking accurate impressions and following the treatment process properly. It's all too easy for things to go wrong; you might end up having to visit a dentist anyway afterward to correct any issues.
By seeing a highly trained Invisalign dentist in Gilbert like Dr. Condie, your treatment process will be smoother and more successful overall. You can trust that our team will be with you every step of the way!
Does Dental Insurance Cover Invisalign?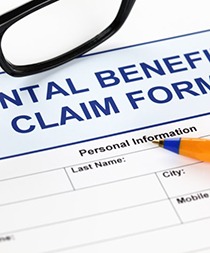 Many dental insurance plans do not cover orthodontic treatment, and those that do often exclude Invisalign. That being said, it never hurts to check your specific plan to find out if it offers any coverage. Our team members can help you with this process; we're also in-network with most of the nation's leading PPO plans.
Options for Making Invisalign Affordable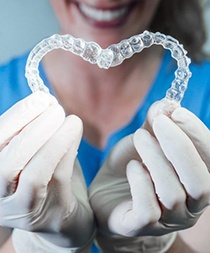 Even if your insurance does not cover the cost of Invisalign in Gilbert, there are other ways of straightening your smile without breaking the bank. For one, Desert Springs Dental has partnered with CareCredit, which offers low- or no-interest payment plans based on credit approval. We also have an in-house discount plan that can be used to help you save on a variety of our services. Feel free to contact us to learn more and explore your options!
Invisalign FAQs
From the process of getting Invisalign in Gilbert to the benefits these clear braces come with, reading through all the above information is an important first step in determining if this discreet orthodontic treatment is right for you. Before committing, however, it is completely natural to still have a few questions that you'd like answered. To make finding those answers as easy as possible, we've responded to some of the most frequently asked questions below. If you would prefer to speak directly with our team, don't hesitate to get in touch!
Who Is a Candidate for Invisalign?
Whether you are struggling with minor misalignment or severe crowding, Invisalign may just be the teeth-straightening solution you've been looking for! The best way to find out for certain is to schedule an appointment with our dentist, Dr. Shandy Condie. Based on your unique dental needs, your smile goals, and the condition of your oral health currently, she can confirm your candidacy. Don't worry – even if you aren't initially a good candidate due to an untreated dental concern, like tooth decay, she can administer the appropriate restorative treatment.
Will Invisalign Affect My Speech?
Since the clear aligners are thin and discreet, many patients adjust to their presence without their speech being negatively impacted. Others, however, experience a slight lisp as their tongue adjusts to the trays. Fortunately, this is typically short-lived. Plus, you can expedite the process by reading aloud and practicing the more difficult words over and over again.
Can I Get Invisalign If I Have Dental Crowns, Veneers, or Bridges?
Possibly. The last thing you want is for your orthodontic treatment to compromise your existing restorations, which is why you should be transparent about your past dental work at your initial consultation. To protect your dental crowns, veneers, or bridges, your treatment timeline may be extended so we can keep a close eye on how your teeth are tracking. In short, restorations like these don't automatically disqualify you from transforming your smile with Invisalign.
What Happens When I'm Done with Invisalign Treatment?
Once you've completed the entire series of trays, it's time to celebrate – your new and improved smile is ready to show off! To preserve your beautiful, hard-earned results, we will provide you with a retainer. It is of the utmost importance that you wear it as instructed so your teeth don't begin to shift into their previous position, leaving you back at square one. If you lose or break your retainer, then get in touch with our team right away so we can have it repaired or replaced.
If you have any additional questions about Invisalign or are ready to schedule your initial consultation, then there is no time like the present to contact our team. We can't wait to help you take the next step toward the straight, healthy, beautiful smile you deserve!