Veneers – Gilbert, AZ
Say Goodbye to the Imperfections in Your Smile
Do you wish there were a long-lasting, lifelike solution for the noticeable stains, chips, spaces, or crookedness in your teeth? Do you wish you could fix all of these problems at once instead of undergoing multiple cosmetic dental procedures? With veneers, you can! Dr. Shandy Condie has more than two decades of experience in transforming patients smile with this incredibly versatile treatment. If you're ready to give your smile a complete makeover, contact our team at Desert Springs Dental today to learn more about veneers in Gilbert, AZ.
Why Choose Desert Springs Dental for Veneers?
Dentist with 20+ Years of Experience
Flexible Financing Options Available & Dental Insurance Welcome
Treatments 100% Customized to Meet Your Unique Needs
What Are Dental Veneers?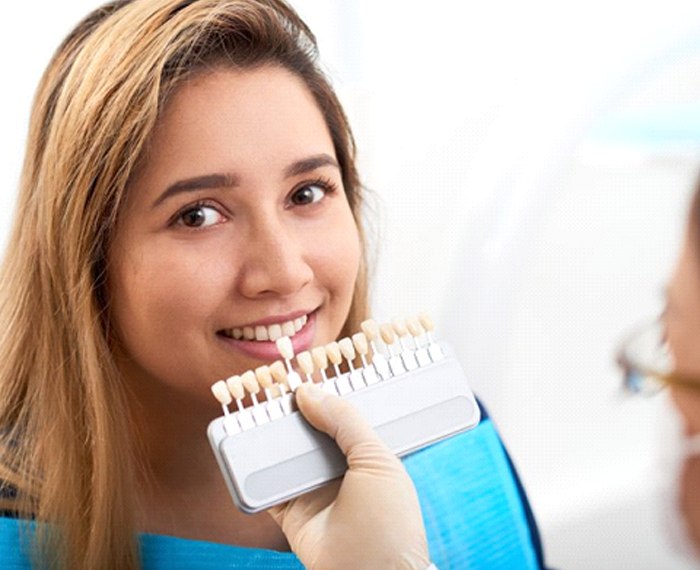 A veneer is an extremely thin porcelain covering that is designed to mimic tooth enamel. It can be fitted over the front surface of a tooth to instantly improve its shape, size, color, and overall appearance. Since veneers are always personalized to a patient's unique smile, they provide seamless results. In fact, you've most likely seen veneers in action before – they're the reason behind the flawless smiles of many actors, singers, and models!
Because a veneer covers the entire part of a tooth that is visible when you smile, your cosmetic dentist in Gilbert can use them to correct several imperfections simultaneously, such as:
Chipped or cracked enamel
Stains that don't respond to whitening treatments
Slightly crooked or rotated teeth
Misshapen, short, or "stubby" teeth
The Process of Getting Veneers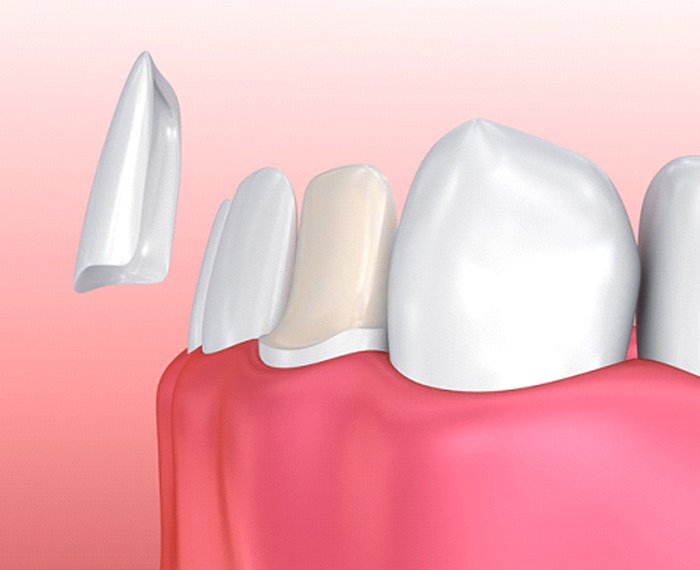 Transforming your smile starts with a consultation, where Dr. Condie will ask you a few basic questions. What do you wish you could change about your smile? How do you want your final results to look? With this information in mind, Dr. Condie can determine if you're a good candidate for veneers.
If so, then the treatment will take place over the course of two appointments. During the first of these visits, Dr. Condie removes a miniscule amount of enamel – about as thin as a contact lens – from the teeth you wish to improve. Doing so ensures the veneers will lay flush against your teeth and create results that look and feel natural. Next, we capture impressions of your teeth and send them to a trusted dental lab. While the lab crafts your veneers, we can fit you with a set of temporaries to let you take your new smile for a test drive.
Your final veneers should arrive at our office in a few short weeks. At that point, we'll schedule your second appointment. We'll switch out your temporary veneers for the real ones, make sure everything looks and feels right, and bond them into place. With regular oral hygiene and dental checkups, you can look forward to enjoying a beautiful, confident smile for decades to come!
The Benefits of Veneers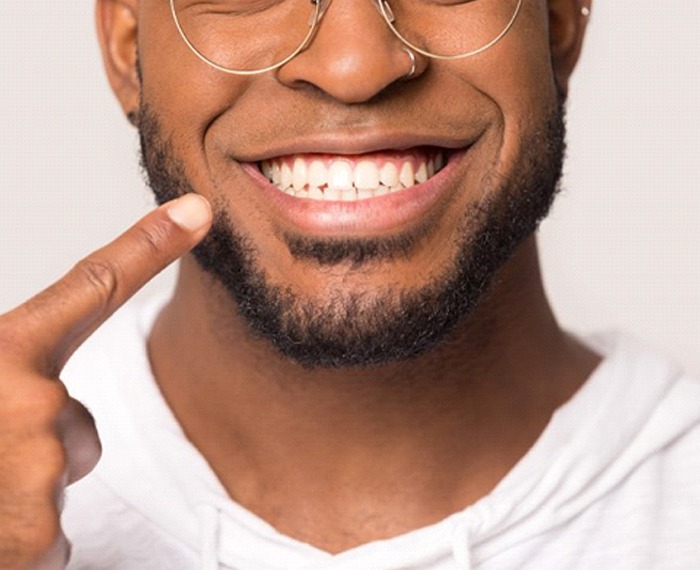 Veneers have become wildly popular because of the benefits they provide, which include:
The ability to improve the size, shape, color, and proportion of your teeth all at the same time.
A flawless appearance that doesn't even look like you had dental work done.
Boosted confidence.
Results that can last for 25+ years with minimal maintenance.
Understanding the Cost of Veneers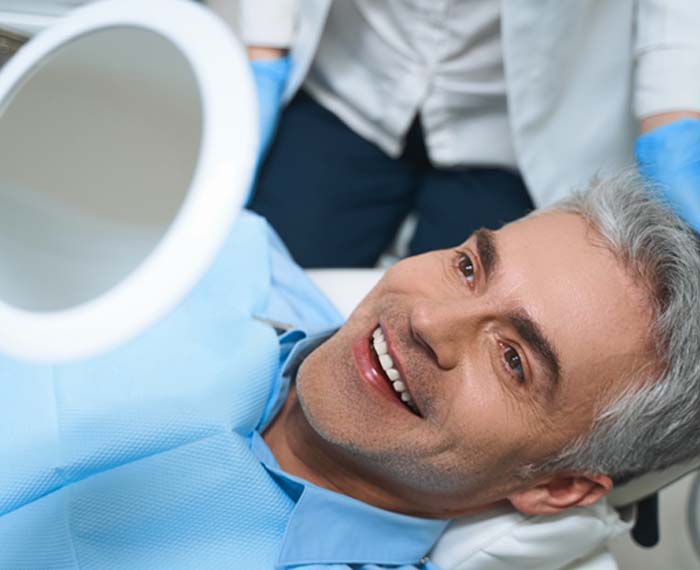 It's no secret that veneers are more expensive than other cosmetic dental treatments. However, if you're considering this popular service, it's important to keep in mind that you get what you pay for! Your smile says a lot about you and is often the first feature others notice about you, so there's no question that quality is important. Read on as we cover some important basics about the cost of veneers in Gilbert and how to choose the best cosmetic service for your specific goals.
Cost VS Cosmetic Dentistry: What's Right for Me?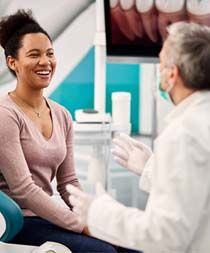 At Desert Springs Dental, we're proud to offer a variety of the latest cosmetic dental treatments to help you get the smile you've always wanted. Each service comes at its own price point to accomplish a certain look. Let's review some of your options:
Invisalign – Invisalign is an investment that will typically cost a few thousand dollars, but it may be partially covered by your dental insurance. This revolutionary orthodontic treatment is the most convenient and comfortable way to realign your smile and change the position of your teeth, but it cannot change their size, shape, or color.
Teeth Whitening – Brightening your smile with teeth whitening is a fast and cost-effective way to dramatically improve your smile. We're proud to offer both in-office treatments and take-home kits that can safely remove years of stains from your teeth. However, whitening can only improve the color of your teeth, not their shape or size.
Dental Bonding – Many patients choose dental bonding as a faster and cheaper alternative to veneers. This quick and easy service can conceal chips, stains, gaps, and more, but can only be used to make minor changes. Plus, it will need to be redone every few years.
Veneers – While veneers are more expensive than many other cosmetic services, they are easily the easiest, most comprehensive way to address all manner of dental flaws. Instead of getting numerous lengthy treatments to fix different issues, veneers can practically redesign your smile with optimal aesthetics. In just a few short appointments, veneers can transform every aspect of your smile, including the color, shape, and size of your teeth!
How to Make Veneers Affordable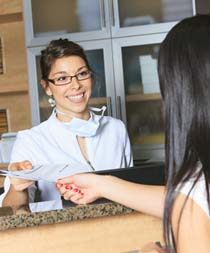 Typically, veneers aren't covered by dental insurance because they are a cosmetic treatment. However, that doesn't necessarily mean the smile of your dreams is financially out of reach! To help make the cost of veneers in Gilbert more budget-friendly, there are financing options available through CareCredit and Lending Club. These third-party companies offer low- to no-interest payment plans for dental care costs and work much like a credit card. With financing from CareCredit or Lending Club, qualifying patients can get veneers right away and pay for them over time with smaller monthly payments afterwards.
Every smile is different, so the best way to find out how much veneers cost is to visit us for a consultation. We look forward to helping you transform your smile in a way that works for your budget.
Veneer FAQs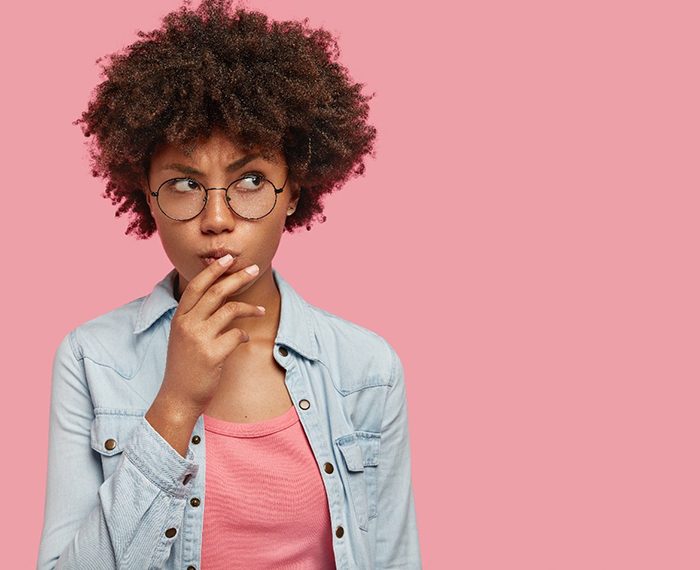 Are you ready to say goodbye to the imperfections in your smile? Choosing how to improve your look is a big decision, and we want to help you feel 100% confident in whatever choice you make. That's why for your convenience, we've gathered some of the most common questions we get about veneers below so you can learn more about them. If you don't see the answers you're looking for, we're only a phone call away! We will be happy to get you the information you need so you can achieve the smile of your dreams.
What Materials Are Used for Veneers?
When it comes to the materials used for improving your smile, both looks and function are important. That's why we use high-quality dental porcelain for our veneers. This material looks exactly like natural, healthy tooth enamel, even down to the way it reflects light. It can also be shaded to match the color of the rest of your teeth, so it will blend in seamlessly with the rest of your smile. Plus, dental porcelain is chip- and stain-resistant! This durable material will be able to take the pressure of daily eating and talking, and you can drink all your favorite beverages without worrying about getting a wine- or coffee-stained smile.
How Long Do Veneers Last?
Veneers are a long-term investment you can count on! When placed by an experienced Gilbert cosmetic dentist like Dr. Condie, you can easily expect your veneers to last 10-15 years or longer! The key for long-lasting results is proper maintenance and care. Make sure to brush with a soft-bristled toothbrush and non-abrasive toothpaste to keep your veneers looking their best. Also be sure to avoid chewing on hard foods (ice, popcorn kernels, nuts), don't chew on inanimate objects (pens, fingernails), and don't use your teeth as tools to open packages or containers. Finally, don't forget to come visit us for routine checkups twice a year so we can make sure your veneers stay in tip-top shape.
Do Veneers Feel Like Real Teeth?
In the past, veneers were somewhat clunky. They looked bulky and out of place in the mouth and could cause changes in speech. Thankfully, you have nothing to worry about with modern-day veneers! Our veneers are ultra-thin, so we'll only need to remove a small sliver of tooth enamel to ensure your veneers fit flush and perfectly in line with the rest of your teeth. Porcelain is also smooth like natural teeth, so it won't irritate the inside of your lips or cheeks. The vast majority of our patients are happy to report that their veneers feel completely natural in their mouth, so much so that they sometimes forget they're there!
How Many Veneers Will I Need?
Each veneer is custom-made, so they can be used to correct any number of teeth. However, the goal is to help you achieve a beautifully matching smile, so while some patients choose to get a single veneer to improve the look of just one tooth, we typically recommend getting veneers in pairs. We find that placing veneers on two, four, or six teeth tends to offer excellent results and an even smile! During your initial consultation, we'll help you determine how many veneers is right for your unique preferences.