March 13, 2023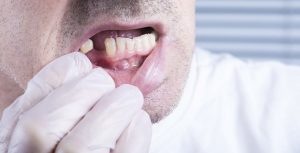 Nothing can affect your self-esteem more than losing your front teeth. Thankfully, you don't have to live with gaps being the focal point of your smile because there are more options than ever before to treat tooth loss, like dental implants. Contrary to what you might have heard, dental implants can be used to replace any tooth in your mouth, including those visible when smiling. You won't think twice before flashing your pearly whites by investing in the next best thing to your real teeth.
How is a Dental Implant Different?
Traditional tooth replacement methods, like bridges or partials, replace the portions of lost teeth visible above the gum line. A dental implant is unique because it replaces the entire tooth structure, including the root and the crown.
A titanium post is surgically inserted into your jaw to serve as a root. Your bone fuses to the post through a process called osseointegration. An abutment is placed on the post to connect a custom-made restoration.
Dental implants standalone and do not rely on other teeth for support. This creates a close replica of your real teeth, so your results look and feel natural.
Benefits of Choosing Dental Implants
When compared to other tooth replacement methods, the benefits of dental implants are priceless, which include:
Look and Feel Natural: The implant post is hidden below your gum tissue and your restoration is customized to match your natural teeth to blend in seamlessly with your smile. It will have the support of your jaw for unmatched support and stability.
Doesn't Alter Healthy Teeth: A dental implant does not rely on any other teeth to stay in place to preserve your natural smile.
High Success Rate and Long Lifespan: Dental implants have over a 95% success rate and are proven to last for 30 years or longer with the right aftercare.
Maintain Your Facial Appearance: Dental implants are the only solution to stop the deterioration of your jawbone. You'll maintain your facial structure and prevent wrinkles, sagging skin, and a sunken appearance.
Lowers Your Overall Oral Health Expenses: A healthy jaw prevents common issues caused by tooth loss, like cavities and gum disease. As a result, you'll avoid needing costly treatments later. Since dental implants never need to be replaced, you won't have to budget for replacements. You can save hundreds to thousands of dollars down the road by investing in dental implants.
Dental implants are an excellent solution to replace any tooth. Although they may cost more than other solutions, they are worth every penny.
About Dr. Shandy Condie
Dr. Condie earned her dental degree from the Creighton School of Dentistry and has continued her education regularly in many specialties, like cosmetic dentistry, neuromuscular dentistry, and dental implants. She is a proud member of the American Dental Association and the Arizona Dental Association. If you're ready to replace your missing teeth, request an appointment through our website or call (480) 780-9080.
Comments Off

on Can Dental Implants Replace My Front Teeth?
No Comments
No comments yet.
RSS feed for comments on this post.
Sorry, the comment form is closed at this time.