June 9, 2023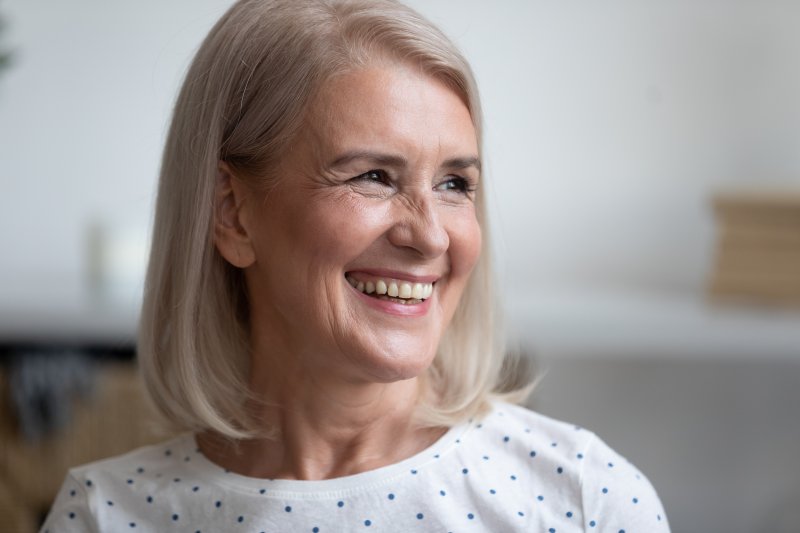 You might be over the moon that you've restored your smile with dentures. While they're certainly a quality solution to tooth loss, they're not your natural teeth, and they'll take some time to get used to – especially if it's the first set you've ever worn. Although it can take up to a number of weeks before you are completely comfortable with them, there are ways to speed up the adjustment process. Read on to learn what you can expect from your first month with your new smile!
First 24 Hours
After getting your dentures, the first day will probably be the most difficult as you may experience mild soreness and discomfort. That happens because your mouth hasn't adjusted to the new oral appliance. If you had teeth extracted before getting dentures, your dentist may instruct you to wear them for the first 24 hours.
Following this initial period, you should remove them right before going to bed. Doing this will give your gums a chance to rest and recover. Initially, it may be difficult to eat with dentures, which is why you will have to take things slowly. It's recommended that you stick to soft foods like yogurt, mashed potatoes, and pasta.
First Two Weeks
For the first two weeks after getting your dentures, it will be a time of adjustment. You'll likely need to schedule a follow-up visit with your dentist. If you had teeth pulled before getting dentures, an appointment will help ensure your extraction sites are healing properly and that everything is going according to plan.
While your gums may still be sore at this point, the discomfort should gradually fade with time. If your dentures move a lot and seem ill-fitting, don't hesitate to contact your dentist for assistance. They'll see if your restorations need to be re-fitted or replaced.
After Two Weeks
Once two weeks have passed, you should start to feel a lot more comfortable with your dentures. Not only will you be able to eat and speak more easily, but you'll notice fewer spots in your mouth. You'll also be able to wear your dentures for longer periods without feeling any discomfort.
It's still incredibly important to practice eating and speaking with your dentures. Reading aloud and having more conversations with loved ones are great ways to help you return to your usual speech. In terms of diet, you should stick to non-chewy foods until you're more comfortable with your new smile.
About the Practice
At Desert Springs Dental, we highly value our patients, which is why we go above and beyond to treat you just like family. Our team will do everything we can to ensure you have the best dental experience possible. If you have questions about adjusting to your new dentures, don't hesitate to reach out. You can visit our website or call (480) 279-3100.
Comments Off

on What to Expect During Your First Month with Dentures
No Comments
No comments yet.
RSS feed for comments on this post.
Sorry, the comment form is closed at this time.